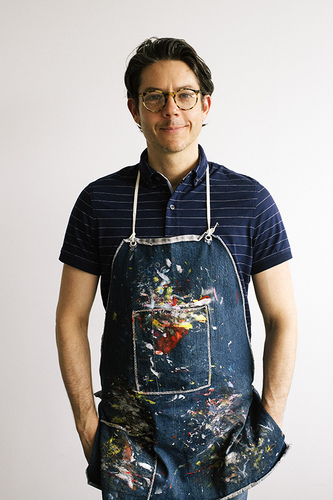 Photo credit: Devin S. Lunsford
MICHAEL VELLIQUETTE
(American, b. 1971) is a mixed media artist known for his works with cut paper. These works engage the nature of matter, sensation, perception, reaction, and consciousness.
Velliquette's work insists on a new spiritual vocabulary—one that combines aspects of early 20th century formalism, and contemporary sensibilities about the handmade, with the visual lexicon he has developed in his works over the past decade. Velliquette's vocabulary is bright, dense, ornamental, and is punctuated with recurring motifs such as eyes, flowers, feathers, and mandalas. Color plays a powerful role in Velliquette's work and acts to convey an aesthetic of plentitude. The labor-intensive nature of Velliquette's practice is also foregrounded in much of his work and correlates to a kind of studio-induced mindfulness.
He has recently had solo shows at David Shelton Gallery, Houston, and DCKT Contemporary New York. His museum exhibitions include
Slash: Paper Under the Knife
at the Museum of Art and Design, New York;
Art on Paper
at the Weatherspoon Art Museum; and
Psychedelic
at the San Antonio Museum of Art.
His work is in the collections of the Art Museum of South Texas; the Museum of Wisconsin Art; the Racine Art Museum; The Progressive Corporation; Western Bridge, Seattle; The John Michael Kohler Art Center; The State of Wisconsin; Boston Children's Hospital and the San Antonio Museum of Art. He is a Faculty Associate at the University of Wisconsin-Madison.
"For Velliquette, the labor of art making is akin to breathing in and out, being in the moment in an equitable, non-judgmental mind state. His choice to work with paper is a conscious decision to utilize a humble, everyday material to open a view into imagined worlds. By foregrounding its texture, weight and form, Velliquette highlights its essential physical qualities and ephemerality. As organic matter it will eventually decay, a metaphor for the universe's impermanence."
—Sara Krajewski, Director, INOVA, Milwaukee, WI. From "The How and The What", a catalog essay for
Their Arising and Passing Away
at DCKT Contemporary, New York, Fall, 2013